Fire Apparatus Windshield and Side Glass
Coach Glass stocks all the traditional parts for ladder trucks, airporters, pumpers, tankers, ARFF and more. We are also utilizing our expertise and drive to develop new trends in the fire apparatus industry.

OEM Windshield Glass
Are you a fire apparatus manufacturer? We proudly produce original equipment products for many fire apparatus companies, including E-One, Ferrara, HME, KME, Rosenbauer, Seagrave and Spartan. We enjoy working on unique projects and we are always willing to add to our extensive inventory of windshields and side glass to meet your needs.
Would you prefer to design your cap to accommodate an existing glass design and save on development costs and time? We can help. Consult with Coach Glass early in your development projects so we can help you achieve your design and delivery goals.

Aftermarket Windshield Glass Replacement
Many fire apparatus companies produce the same or similar front caps, making it difficult to identify the correct windshield for your vehicle. Our dedicated, experienced team can help you quickly identify what you need to get your fire apparatus back on the road. Coach Glass offers both current and obsolete aftermarket fire apparatus glass. Our inventory includes toughened laminated glass to help prevent frequent change-outs for parts that are subject to more abuse.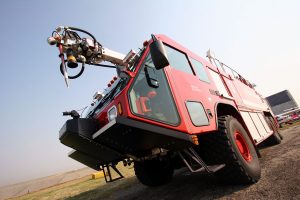 Coach glass encourages innovation in the fire apparatus manufacturing industry. If you need a specialty windshield or side glass for a fire apparatus vehicle, request a quote or reach out to us about our product offerings. We either have your product in stock to ship, or we'll work with you to get the glass that you need.
Partner with Our Engineers
Can't decide which windshield will fit your next product design best? Visit our product development page to learn more about our capabilities and partner with Coach Glass' engineering team to find the perfect glass for your product.
A Sampling of our Available Makes and Models
Don't see it on the list? Give us a call. The chances are, we have your fire apparatus glass in stock:
FIRE APPARATUS
AIRCRAFT RESCUE FIRE FIGHTING
AMERICAN LA FRANCE
CENTURY
CENTURY 2000
CONDOR
EAGLE
EAGLE / LT1
METROPOLITAN
PACEMAKER
VEGAS CAB OVER (LADDER)
EMERGENCY ONE
CYCLONE
EMAX
P8
PROTECTOR
QUEST
SYNERGY
TITAN HPR II GALLONS
TYPHOON
FERRARA
IGNITER
INFERNO
INTRUDER
ULTRA
GRUMMAN
AERIALCAT (LADDER)
FIRECAT (PUMPER)
PANTHER I (PUMPER)
PANTHER II (PUMPER)
KME
96" WIDE CAB
AERIAL CAT
CINCINATTI CAB
KME
PREDATOR
RENEGADE
OSHKOSH
STRIKER
STRIKER 4X4
STRIKER 6X6
STRIKER 8X8
PIERCE
ARROW
CONTENDER
DASH
DASH CF
ENFORCER
IMPEL
LANCE
PIERREVILLE PUMPER
QUANTUM
SABER
VELOCITY
QUALITY
AMERICANA (PUMPER)
INDEPENDENCE (LADDER)
ROSENBAUER
AVENGER
COMMANDER PUMPER
EXT-74249 TILLER CAB
PANTHER
SEAGRAVE
CONCORDE
MARAUDER I
MARAUDER II (M2)
SEAGRAVE
SMEAL
100' MID MOUNT AERIAL PLATFORM
5600
SIDE MOUNT PUMPER 2000
SPARTAN
GLADIATOR (6"-16" TRENCH)
SPARTAN
SPARTAN MOTORS, INC.
"METRO STAR 99"" CAB"
AVENGER (PUMPER)
SUTPHEN
AERIAL SPH100
DELUGE
IMPERIAL
LEGEND
MONARCH
SHIELD
SUTPHEN